ZIP unzipped EMILY WARNER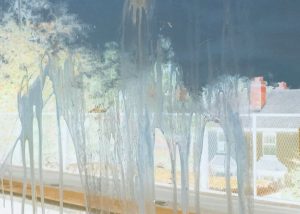 Emily Warner, artist in residence for the symposium has produced a digital response, Zip unzipped to the symposium and the research presented during our panels. You can see Zip unzipped and find out more about Emily at this link: 
https://emily-warner.com/2021/11/13/mascnet/
The online symposium programme is available here:
You can view all of the panels by following the links below:
Monday 20th September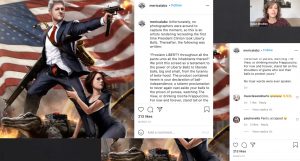 Panel 1: Extremist and Alt-right masculinities
Alexandre Pichel-Vázquez, (Catalunya) Marta Cabezas (Autónoma de Madrid) Radicalizing right-wing masculinities: Censorship, dilemmas and contradictions about gender-violence in right-wing men
 Jason Luger (Northumbria) Dawn Woolley (Leeds) Gym bodies, militaritarized branding and fascistic creeps 
Panel 2: Medicine Man: Media Assemblages of Medicalized Masculinity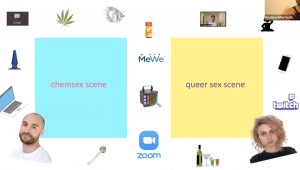 Chair: Karen Hvidtfeldt (Southern Denmark)
Karen Hvidtfeldt (Southern Denmark) & Michael Nebeling (Copenhagen): Medicine Man: Media assemblages of medicalized masculinity
Camilla Bruun Eriksen (Southern Denmark) Men in/and crisis: The cultural narrative of men's midlife crises 
Mie Birk Jensen & Karen Hvidtfeldt (Southern Denmark) From medicine to metaphor: Viagra trajectories in Danish media (1998-2018)
Signe Rom Rasmussen (Southern Denmark) 'If you operate on me! I don´t need anesthesia😂' Or, what can the (male) surgeon body do in networked micro cultures of cosmetic health?
Kristian Møller (Southern Denmark) and Alexandra Aldridge (Royal Holloway) (De)centering cocks: Queer and gay male politics of desire in digital sex parties
Tuesday 21st September 
Panel 3: Masculinity in Covid Times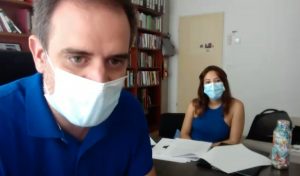 Chair: Jamie Hakim (Kings College, London)
Marcos Bote (Murcia) Agustina Varela-Manograsso (Castilla La Mancha) Re-spatialization of life and research. Analysing masculinity and old age in Spain during the Pandemic Crisis 
Duru Basak Ugurlu (Hacettepe) The fall of the houses of male solidarity: Transition of spatial experiences of men under pandemic-hit restrictions
Frank G. Karioris (Pitttsburgh) Finding Joy & Elegy: Poetry from Pandemic
Panel 4: Diverse Objects, Diverse Methods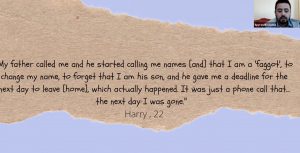 Chair: João Florêncio (Exeter)
Spyros Boviatsis (Independent) Lost in time: When queer boys (un)become men
Hongwei Bao (Nottingham) Performing transnational Chinese female masculinity: Whiskey Chow's performance art
Matthew G. Nielson (Michigan) Reactions to the authenticity of ethnically and sexually diverse men
Panel 5: Digital Masculinities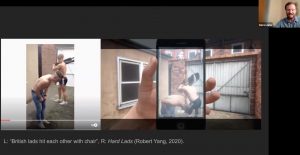 Chair: Jose Arroyo (Warwick)
Jaime Garcia Iglesias (Edinburgh) Neta Yodovich (Haifa)Cannibal daddy: How did Twitter users negotiate masculinity, kink and abuse in the wake of Armie Hammer's leaked DMs? 
Marco Scarcelli (Padova) Cirus Rinaldi (Palermo) Rearticulating the idea of manosphere. Whatsapp groups as digital idioculture.
Broderick Chow (Central) Eero Laine (Buffalo) British lads hit each other with chair: Viewership, speculation and male affection
Wednesday 22nd September 
Panel 6: Representations of Masculinity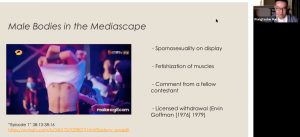 Chair: Clarissa Smith (Northumbria)
Liza Tsaliki (Athens) "Regency masculinity in 21st century Shondaland: male erotic desire and racial tropes in Bridgerton"
Dr. Gilad Padva (Tel Aviv) Screening monstrous masculinities
Wangtaolue Guo and Jennifer Quist (Alberta) A dildonic assemblage: The paradox of masculinity, desire, and queerness on Chinese reality television's Yundongba shaonian
Artist Talk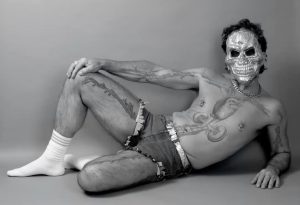 Richard Sawdon Smith (Norwich University of the Arts) Masc for mask: Reflections of a Daddy on surviving a pandemic In conversation with Joao Florencio and Peter Rehberg
Panel 7: Style and New Masculinities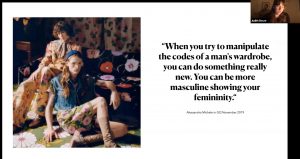 Chair: John Mercer (Birmingham City University)
Judith Beyer (Wellington) Gucci's New Man: A close reading of gender-fluid masculinities in Alessandro Michele's fashion design 
Carolin Becke (Sheffield) Masculinities & dress: an analysis of men's kimono at the coming-of-age day
Gallais Catherine (Hull) 'New masculinities': Fatherhood and caring practices in New York City.
Greg Wolfman (Independent) Hollow femininities: The emerging faces of neoliberal masculinities