The Mascnet Syllabus
Masculinity: Sex, Bodies and Identities in the 21st Century. A Mascnet Syllabus
The discussion around masculinity in the 21st century and in the context of so-called identity politics can be complicated and challenging. We have developed this syllabus for anyone interested in thinking through some of these issues and concerns. Our syllabus can be used by educators, health and charitable organisations or by individuals who want to gain a structured understanding of the debates and what's at stake.
The Mascnet Syllabus
As part of this research network, Principal Investigator Professor John Mercer and Co-Investigator Professor Clarissa Smith will be editing a book series on Masculinities, Sex and Popular Culture published with Routledge. For more information about the book series, and if you are interested in submitting a proposal, you can find additional information by clicking here.
Exploring the Cultural Phenomenon of the Dick Pic
Andrea Waling.
Exploring the Cultural Phenomenon of the Dick Pic explores the Dick Pic in popular culture. Made possible by advancements in mobile and digital technologies, the Dick Pic is often regarded as a harmful endemic, particularly in wake of increased recognitions of sexual violence against women. However, very little has been done to explore Dick Pics outside of violence, pathological, and moral panic framings, such as the erotic possibilities and understandings of the Dick Pic, and the manner in which certain discourses continue to work to shape and frame how we engage and understand the Dick Pic in contemporary culture.
Drawing from a range of disciplines, cultural analyses, lived experiences, and theoretical approaches, this book explores the erotics, vulnerabilities, and potential transformative natures of Dick Pics. It looks at historical and contemporary theorisations of the penis/phallus, sexualisation and sexual objectification of the male body arguments, contemporary public discourses concerning the Dick Pic, and men's lived experiences of sexting and Dick Pic sending.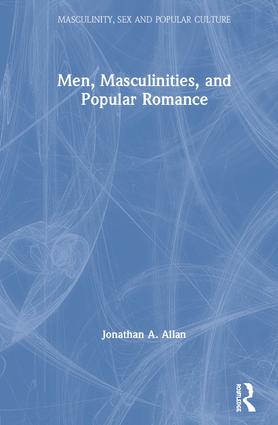 Men, Masculinities, and Popular Romance. Jonathan A. Allan. Available for pre-order here.
Men, Masculinities, and Popular Romance seeks to open a lively and accessible discussion between critical studies of men and masculinities and popular romance studies, especially its continued interest in what Janice Radway has called "the purity of his maleness."
Popular romance novels, perhaps more than any other genre, explore sexuality and gender, creating an ideal space in which to consider and explore theoretical models that think seriously about gender. The romance novel has long been criticised and celebrated by feminist critics. How can these novels maintain, according to some, feminist ideals, while also upholding what Raewyn Connell has long theorised as "hegemonic masculinity"?
This volume is an original and important contribution examining the previously underexamined nexus of masculinity and popular romance studies. It will be of key interest to undergraduates and postgraduates in Masculinities, Gender and Women's Studies, and Literary Studies, and highly relevant to courses in Masculinity Studies, Pop Culture Studies, Queer Studies and Sexuality Studies.