As part of this research network, Principal Investigator Professor John Mercer and Co-Investigator Professor Clarissa Smith will be editing a book series on Masculinities, Sex and Popular Culture published with Routledge. For more information about the book series, and if you are interested in submitting a proposal, you can find additional information by clicking here.
Upcoming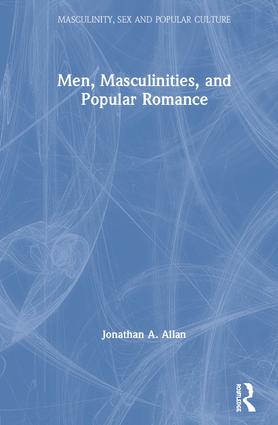 Men, Masculinities, and Popular Romance. Jonathan A. Allan. Available for pre-order here.
Men, Masculinities, and Popular Romance seeks to open a lively and accessible discussion between critical studies of men and masculinities and popular romance studies, especially its continued interest in what Janice Radway has called "the purity of his maleness."
Popular romance novels, perhaps more than any other genre, explore sexuality and gender, creating an ideal space in which to consider and explore theoretical models that think seriously about gender. The romance novel has long been criticised and celebrated by feminist critics. How can these novels maintain, according to some, feminist ideals, while also upholding what Raewyn Connell has long theorised as "hegemonic masculinity"?
This volume is an original and important contribution examining the previously underexamined nexus of masculinity and popular romance studies. It will be of key interest to undergraduates and postgraduates in Masculinities, Gender and Women's Studies, and Literary Studies, and highly relevant to courses in Masculinity Studies, Pop Culture Studies, Queer Studies and Sexuality Studies.